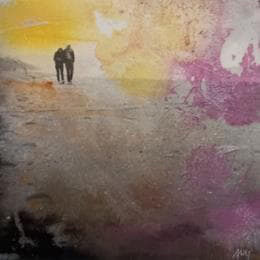 Intrigued by the art of photography, Franz dabbled in analogue photography in his youth. Self-taught in the practice of photograph development and colour proofing, he went on to pursue formal training in the audiovisual domain. After his studies, he worked in the film industry as a projectionist for the better part of twenty years. Franz also nurtured the wordsmith in him by writing poems, short stories, plays and novels.
Having returned to his tool of choice during the last few years, Franz is venturing into cameras from the 50s and the 60s this time around. He couples them with vintage analogue films with the intention of breathing new life into them and reliving old times. His pictorial work will be an extension of his photography: he will use paint to complete and reinforce the ephemeral and incomplete nature of the images produced by him.
Printed on Japanese paper - whose graininess and material add to the artistic aspect of the work - the photographs are pasted on a wooden frame or canvas, reworked by the artist using acrylics, China ink and aerosol paint. Franz's approach consists of the synthetic copying "of images from the present day in a way that they appear to belong to a different epoch, with the intension of questioning our fleeting existence vis-à-vis the durability of things." To achieve this, the artist resorts to different techniques that, once completed, aim to positively capture the imperfections that surround us and that are an integral part of our human existence.