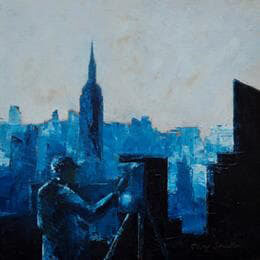 Gary Smith
United Kingdom
Gary was born in Cannock, a small English town in the West Midlands near Birmingham. He painted and drew from an early age. After completing one year of courses at Stafford College of Art, he studied graphic design at the University of Coventry. In 1987, he moved to London and began a career as an art director in advertising. For twenty years, he maintained his drawing skills by creating visuals and advertising mock-ups for the most important London agencies. In 2009, he decided to start his own business; this independent status allowed him to reconnect with his first love, painting. He has been exhibiting since 2012 and carries out multiple private commissions worldwide. He currently lives in London. Caravaggio (Italian painter, sixteenth-seventeenth centuries), Rembrandt (Dutch painter, seventeenth century) or Edward Hopper (American painter, twentieth century) are among his main artistic influences.
Gary works oil painting with a knife in a figurative style (portraits, landscapes, still lifes). Fluid and natural, his actions seem to forget the long years spent perfecting his technique. The artist finds inspiration while walking at the seaside or in the lively atmosphere of the city. He seeks to represent the small details that no one pays attention to. Bright and colourful, his works celebrate the spectacle of ordinary life: a gull skimming the surface of the water, a man covering his head with a newspaper to protect himself from the rain, a pigeon mimicking passers-by, a row of glittering scarlet payphones in the fog...
Beyond the realism of the subject, Gary wishes to capture the atmosphere of emotionally charged moments (a look shared on a cafe terrace, a hand around a waist, complicity between lovers...) He paints neutral faces to give free rein to the imagination of the viewer. His anonymous figures invite us to share these moments. Intimate and mysterious, they offer a reflection of the beholder.