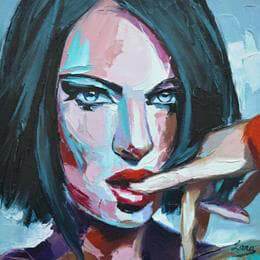 Tikhonova Svetlana
Czechia
As a teenager, Svetlana became familiar with art and began practising it in the studio run by the Belarusian artist and teacher M. S. Tolmachev. Several years later, she perfected her work by following a course devoted to design and decoration at the State University in her hometown. Upon completion of this course, Svetlana chose not to throw herself into creating straight away, but instead decided to feed her mind and imagination in order to enrich her pictorial vocabulary. As such, thanks to many trips and encounters – from Japan to Spain, Russia, Poland or even Italy – the young artist discovered, collected and gathered stories and legends that would then form the fertile ground, from which she could draw her inspiration.
Interested by the diversity of emotions that an individual can feel throughout his or her lifetime, Svetlana decided to start painting again in August 2015 with the aim of materialising the innumerable facets of these so particular psychological behaviours. In order to do this, she uses knives, paintbrushes and sometimes her fingers first to sketch the eyes, and then to conceive a face. Oil painting allows her to work on the thicknesses and intricacies and thus strengthening the materiality of the subject, as well as her commitment to compose many of her portraits out of highly contrasted tones.
The dynamism of this painting has traces of "mystic realism", using the author's own expression, resides in its passionate execution and attributes itself to improvisation. In order not to lose any of this deep and fleeting feeling that she tries to represent, Svetlana works elatedly and quickly on her support without a sketch beforehand.