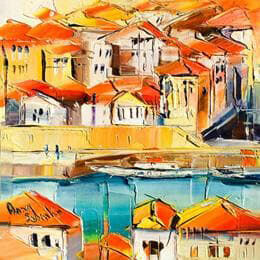 Anna was born in Vladivostok in Russia and studied the fundamental skills and techniques of art in Russia for five years. With a degree in hand, she decided to move to the Italian city of Milan to step into a new world, the world of ready-to-wear fashion. So, from 2008 to 2011, she attended a specialist course in fashion marketing at the European Institute of Design, while continuing her artistic studies at the Academy of Fine Arts in Brera. Two years later, Anna flew to Asia and worked from the city of Guangzhou, in the southern part of the People's Republic of China.
The young artist is genuinely enthusiastic and passionate, and likes to pass on to others what she has learned and discovered during her many travels and courses. Also, since 2014, Anna has divided her time between developing her own artistic practice and teaching painting techniques in a professional art school, then in her own art school dedicated to children, which she opened in Guangzhou in September 2015.
Anna likes to use pallet knives, which guarantee her greater freedom in producing her paintings, and she loves above all to communicate joy and happiness through her works. To do this, she does not hesitate to use a rich range of bright, warm colours which are highly inspired from local culture to tell her stories and, in the process, reveal the beauty of the world.