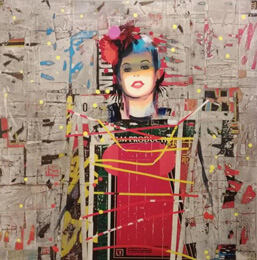 Inspired by an artist father, Thierry was interested from a very early age in drawing and painting. He studied fine arts at the University of Aix-en-Provence where he struck up a friendship with a Brazilian professor who gave him his first exhibition in Sao Polo.
Having left initially for only 3 months, Thierry ended up staying in Brazil 8 years, and became the leading portraitist of the Brazilian middle class. His career as a professional painter began with commissions for paintings in a classical style. This experience was his first approach as a portraitist.
Thierry immersed himself in the atmosphere of the cosmopolitan city: graffiti-filled walls, torn posters, the wear of time and the patina of storms. The artist searched for this street ambience and glorified it on canvas. Thierry's paintings are pieces of this life to be hung on the wall. Back in France, he employs the embossing techniques used in the past for old-fashioned ads (reliefs created on a metal plate). To recreate these effects, he applies sheets of metal on the areas he wishes to highlight. The artist likes to inlay subliminal messages. He acquired many cinema and concert posters from the 70's, 80's and 90's. Using a selection of superimposed pieces, the artist assembles them as the base for his work. He then scratches, scrapes and tears off different layers, letting the elements below appear. Once this base is dry and ready, Thierry begins painting and drawing characters in grey and black monochrome. Black acrylic for the drawing gives an effect reminiscent of comic strips through its contrast with the coloured base. The inspiration for characters or portraits comes from magazines, photos taken in the city, film actors or people that he knows. He then applies layers of tinted varnish, finishing with a last layer of glossy varnish that enhances the desired effects.
Thierry's influences are resolutely those of Pop Art. Other than Andy Warhol, artists such as Larry Rivers or Jim Dine inspire the artist.