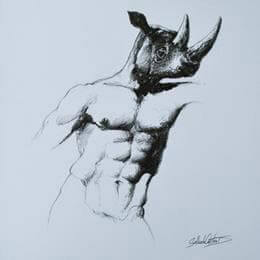 Dennis uses a mixed technique of oil paint, acrylic, pastel and photo collage. He works on both canvas and paper with great precision and attention to detail. Dennis' world is a mix of fiction and reality. He interprets them and creates an atmosphere between fantasy and reality.

With a view to a different type of creation, he focuses on the similarities between humans and animals. He denounces ""the vices of human beings, the sentiments and manipulations of a decadent society.""
He is inspired by what he sees, the relationship between man and animal, and their similarities and differences.
The artistic currents of Romanticism (nineteenth century) and Surrealism (twentieth century) influence his art. He also finds inspiration in the great painters such as Ivan Aivazovsky and William Turner for their use of light and Rene Magritte for his peculiar work.