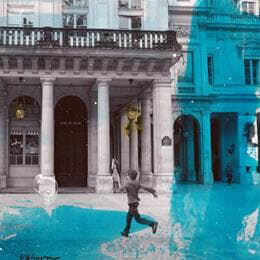 Yohann has made a space for himself in the art world thanks to his constant curiosity and subtle visual sharpness. After completing his studies in communications in Quebec, he decided to go live in Paris to work in film. Self-taught, he managed to become an assistant to many film directors for over a decade before deciding to move on to making films himself. His work in film will lead him to many cities and countries where he will instinctively begin to take pictures of the places he sees, attempting each time to ""capture"" the atmosphere that emanates from them and from the people that inhabit them.
The artist is drawn to lives in the cities and he squeezes into these spaces, crawling with people, in order to uncover, while wandering about, the detail that will make him reach for his camera. ""Always searching for the magic of the moment"", Yohann has developed an instinctive reaction that resembles that of a reporter.
Informed by his experience in film, he finds his inspiration in the film directors he loves such as Woody Allen, Maurice Pialat, David Lynch and Jean-Luc Godard. He has great admiration for the photographic works of Henri Cartier-Bresson and Robert Doisneau but he is also greatly interested in works by artists such as Tony Soulié and Saul Leiter. He works exclusively with black and white photography printed on aluminium but has recently started to add colours that underline and expose certain visual elements. By inserting stains or drips made with ink and vinyl painting or stained glass he can reveal perspectives for reading the work and can reveal all of its concrete intensity.