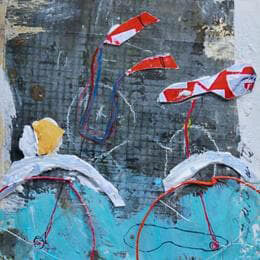 Isabelle De Joantho
France
The artist would begin with portraits of women. Whether they are painted on canvas or sculpted in clay, Isabelle seeks first to complete the resemblance to the subject, highlighting the reliefs and working beyond the frame. Working with pure abstraction, she gradually comes to mix the two. Guided by her thoughts and mood, the artist now combines the figurative and abstract.
Her feelings, her stories; she draws more from the past identity of the materials she chooses than in creating a work of introspection.
In fact, she loves to use all kinds of materials and timeworn objects, marked by a first life. She adds words, imperfect lines drawn in charcoal, ""accidental stains"" of paint, ink or pigment, and then assembles these elements like pieces of a puzzle.