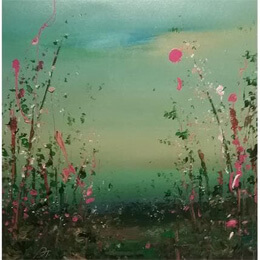 Jaanika Talts
South Africa
Born on the shores of the Baltic Sea, Jaanika lived in Sweden before shifting base to Ireland a little more than ten years ago. Jaanika chose Dublin as her new home and started her artistic practice there.
Deeply inspired by the beauty of the bay of Dublin that grew on her, Jaanika immediately felt a pressing need to capture it through painting. Self-taught, the young artist's pieces were normally acrylics on canvas, using an approach born out of experiments on colour density and tone. Developed through coloured impastos or using the glazing method of sfumato technique, her works were sometimes vibrant, sometimes misty. The range of Jaanika's artistry is as extensive as it is ethereal, replete with intense and rich colour variations. Ranging from coastlines to the adjoining lowlands, her unique interpretation of the surrounding landscapes draws its inspiration as much from the works of the impressionists as from the masters of abstract expressionism.
Jaanika progressively perfected her technique and asserted her style, which turned a new leaf in her career, steadfastly abstract this time around. Colour plays a central role here because it is both the subject and the material. The painter loves to explore its multiple facets, playing with multiple variations, intensities and depths of colour tones. Completely driven by her desires at that time, Jaanika's painting is sincere and spontaneous, with an endless quest of recreating an emotion more than representing a tangible reality.