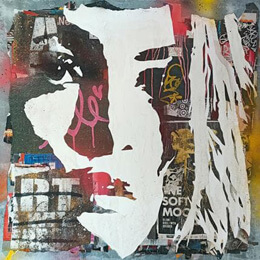 Married in town, Claire and Yohann Gloaguen spend 10 years evolving in their respective arts before forming the artistic duo CYEN in 2011.
Yohann has always juggled his passion for the cinema with that for photography. His career as director enables him to travel regularly all over the world and has as time has gone by enabled him to capture elements of interest in every town he frequents.
Claire has been by his side as visual artist since 2001, holding exhibitions in various countries. She shares with her husband a love of the cinema, art and travel. Following their trip to New York, Claire and Yohann want to reconnect with a singular concept: that of reverse graffiti. Greatly influenced by the work of street artist Vhils, the pair adopt a new artistic approach, explaining:
"On a base representing a coated, shaped wall we superimpose photos of one and the same town printed on poster paper then stuck and torn with the aim of creating a symbolic visual association".
In this way the two artists create veritable "walls speaking of trips". But the trips also consist of encounters. As Claire emphasises, each work features, sculpted with a scalpel in paper, the appearance of the face of an anonymous person encountered by chance on these various journeys. So each face tells a story, and the visuals associated with the town are part of the stranger's story. The duo is pursuing reflexion on memorials and also hopes in this way to address the symbols hidden in these memorials. These fictitious, unique walls speak of the creativity simply oozing from this duo, and perhaps one day they might let some of their subjects slip away in the street.