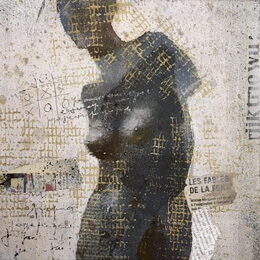 Through her painting, Angela Evers approaches the human figure in a physical way - the body, its movement, and its gestures - and in a spiritual way, by tapping into its psyche. In doing so, she connects intimately with the other and with the world.
Her figures stand out, they seem to float, reflected and marked in the materials, and the shadows detach from the artist's compositions and are the product of interconnections, encounters and happenstance. The artist expands her creative playing field by practicing a wide variety of techniques such as acrylics, collage, paper canvas, sand, glue, and coating and gives the figures that wander about in them a rich palette of emotions that is always changing.
She brings with her a Dutch legacy and is fascinated by painters of the Enlightenment, the rigour and skill of a Mondrian, or the spontaneous and fiery gesture of a Van Gogh. The artist draws her inspiration from the culture and history of her homeland. With this comes the influence of northern country landscapes, vast plains, grey and heavy skies and stretches of sand. Angela Evers finds the ideal expression of humanity in these stripped spaces that depict loss and the ephemeral. Using only broken colours and natural tones, she redefines the notion and use of colour by using a ""blue-grey-beige"" that escapes definition, cannot be categorised, and stands as a symbol of harmony for the artist but also carries with it a melancholic dimension connected with passing time and fading memories.