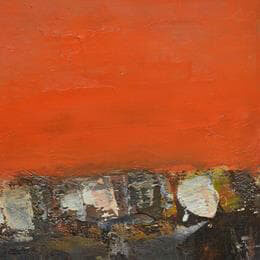 Philippe Hillenweck
France
This Alsatian painter, set up in the city of Wittesdorf, has been creating since the very beginning of the 21st century. Strongly attracted by the artistic world, he has always cultivated his taste for writing and drawing; two disciplines that he keenly practises in parallel, with one often accompanying the other, with randomly developed themes.
Initially produced in his garage, his oil paintings on canvas are carried out with a knife and are made up of numerous blocks of colour, sometimes dark, sometimes dazzling. Motivated by those close to him, he began displaying his canvases at many various fairs in the region before seeing his canvases hung to picture rails in a gallery two years later. A self-taught artist, Philippe would spend about fifteen years thinking about, developing and refining his style, continually seeking to answer a need to realise the authenticity of nature through his painting. Thanks to the work on the tonalities, light and textures, he interprets the world around him without ever really depicting it, always making abstraction his main language.
Curious and eager to learn more, Philippe is inspired as much by the works of the great masters of 20th century painting – with works by Serge Poliakoff, Nicolas de Staël or Jean Dubuffet – as by his observation of nature and the relationships between beings. As such, the artist has been able to patiently form an individual, intense and rigorous plastic writing style that still remains open to the world. Sensitive to encounters, discoveries and current affairs that make up his daily life, his painting is reflective of his own life, forever in the making.