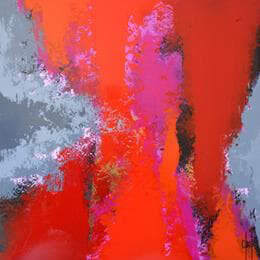 In 2004, she began to diversify her work and focused exclusively on acrylic paint. She gradually learned to expand her range of colours and their associations, and began exploring different styles, eventually giving free rein to her imagination through abstract art. In the abstract, the colours and their subtle variations reflected the artist's different emotions.

In 2007, Clade created the concept of changing magnetic paintings that allowed her creations to never stay frozen in one state. Clade worked with a spatula and applied a bottom layer of different colours to enhance the contrast and depth of her works. From canvas to canvas, she delved into her imagination to better escape her reality.

Now Clade express her full potential and gives depth to her unconscious projections that take shape in her often very colourful and mostly abstract work. Her art continues to evolve through the materials and themes she approaches...