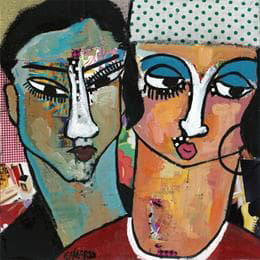 Mercedes Garcia Gallardo
Spain
Mercedes grew up in Malaga where she began her art studies. When she moved to Barcelona, she continued her education with professional artists such as Manolo Hugué (sculpture and glazing) and Manuel Massana (drawing and painting). In school, she took various courses on the techniques of stained glass, primitive art, engraving, sacred symbols and the history of art. She specialized in contemporary art and decided to turn her passion into her profession. In 2006, she opened her own gallery in Cadaqués, the Gallardo Art Space.
Women, the world around them and their deepest feelings are the main sources of inspiration for Mercedes. Her paintings express an infinite range of situations and emotions that are conveyed in the faces and bodies of her characters.
Mercedes uses pieces of paper, canvas, phrases cut from magazines, and scraps of song and poetry, fixing them onto large patches of acrylic paint. This background serves as a frame to create and give life to her characters, which are then painted with oil. She uses a mixed paint technique on canvas, wood or cardboard. Features are strong and the colours bold. Cardboard, letters, words, and fabrics are used as a complement to the graphic expression.
The world described in her paintings is a colourful and lively world that she approaches head-on with close-up faces (mostly women) or landscapes that are largely inspired from where she now lives (Cadaqués).
For Mercedes all everyday objects are sources of inspiration and she sees in these objects the possibility of a pictorial transformation. Hers is a work based on observation, impressions and emotions. She moves away from figurative representation by experimenting with shapes, colours and materials. The objects have soul that she brings out in her compositions and her heart guides her from the moment that she captures their souls.