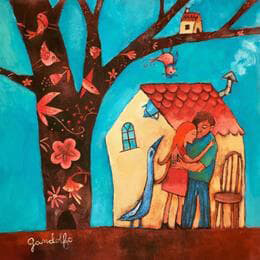 Cecilia Gandolfo
Argentina
Light, lyrical, almost evanescent, the characters which populate Cecilia Gandolfo's works hardly seem to set foot on earth. Choreographing action like so many dance steps susceptible to evoking emotion and feelings: passion, friendship, love or pleasure, the artist tries to make the immense, infinite and indefinable complexity of human relations, the link everyone has to otherness, visible and tangible in her compositions.
Her acrylic or watercolour paintings bring forms and solid colours face to face, superpose them and intertwine them to create a consistency in the subject but also a fluidity, the sensation of caressing a movement, the harmony of an action or a posture.
The world of Cecilia Gandolfo, in which humans evolve supreme, where they spread out fully with their size and grandeur of their emotions, where they reduce the real through the strength of their feelings, is a symbolic world with fantastic logic.
Carrying out a dance in the middle of a village of houses that are only ankle-high or finding refuge on the back of a cat wearing a tie, the artist's characters are fabulous beings capable of inverting the rules of the useful and functional to celebrate the magic of the unexpected. Making a table for tea or a dance floor from the roof of a house, climbing on the back of an animal to come and rest there, disrupting the ladders, the artist also disrupts habits and leaves space for an unreal form where everyone mixes with the unknown, where subjectivity reigns, where the visible becomes nomadic.