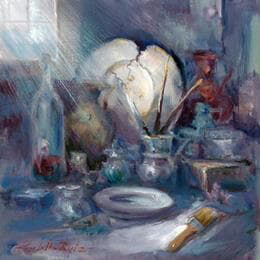 José grew up in the colourful heat of Andalusia. He was introduced to art at an early age by his uncle, a painter. The young man helped him in his workshop in his spare time. As an adult, he studied at the School of Fine Arts in Madrid and entered the studio of Ramon Gonzalez. He held his first exhibition in Australia in the late 1970s. The artist has exhibited in Spain since 1984, and his paintings are regularly awarded prizes at national competitions. In 2012, he won first prize in the Dali oil painting contest in Girona. A member of the Association of Visual Artists of Galicia (ARGA), he currently lives and works in Madrid.
Jose is a worthy representative of Spanish figurative art. A painting virtuoso, he combines a wide range of colours with his perfect technique. He often uses oil but allows himself to change medium according to the subject he is painting. The beauty of nature is for him an inexhaustible source of inspiration. The artist focuses on seascapes and coastal views. He prefers the texture and reflections of water (lake, river, sea...)
An outstanding landscape artist, the painter plays on the intensity of light to recreate the memory of an atmosphere or a mood. In this way José covers the city of Venice with an ochre veil and plunges a trivial fishing party into subtle blue-gray shades. Violent contrasts of colour appear from one work to another. Here, Madrid sparkles in the scarlet glow of a fire, there is a mountain camouflaged under a thick white blanket ... The landscape becomes a symphony in which each tonal range has a specific role to play. Realistic, his works sometimes tend to abstraction in a unique combat between figuration and improvised painting.
José's art is not intended to describe a particular scene faithfully, but to express an emotion. The light shines from within his paintings to illuminate a silent and dramatic nature. Under his brush, a simple stroll along the sea takes on a magical dimension.