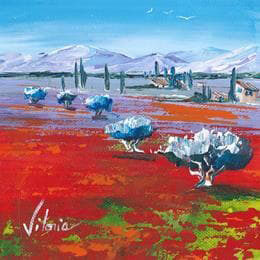 Vitoria Grew up in the Jura region of France and from the age of 7 was passionate about pictorial art. She indulged this passion in secret, hiding it from her parents who did not push her in that direction.
At 30 she began to paint freely for the first time, unable to contain her enthusiasm for art. At night she dreamt of her paintings before putting them on canvas.
From 2000, Vitoria began her first exhibitions and on opening her studio to the public, was immediately successful with an international clientele.
The loss of a loved one deprived her of inspiration, and for a period she devoted herself to her children. Replenished and revitalized through them, Vitoria rediscovered the light needed for her painting. She reopened the doors of her studio in order to immortalize Provence where she spent time regularly to draw inspiration. She composed landscapes of sea, houses, lavender fields and olive trees. Her oil painting is as generous and colorful as the South that inspires it with its rich palette of colors and fragrances.
Vitoria often travels to Egypt to soak up the soul of the country. She is inspired by the pyramids, and her paintings take on an abstract dimension.
Vitoria has an overwhelming sense of inspiration. The simplest thing can push her to create: the face of a child, or a ray of light that illuminates a landscape or highlights a silhouette. She observes a landscape until it is absorbed into the depths of her being. Before her knife has even touched the canvas, the painting is already living in her, a constantly erupting volcano the artist has contained for too long.
Vitoria is an artist dreamer and this freedom is essential for her art. The artist yearns to make others dream as much as painting makes her dream.