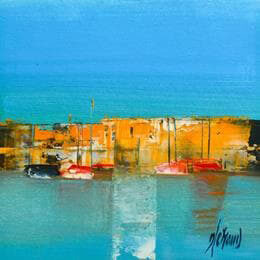 Alain uses a knife to spread oil paint on canvas, paper or wood. To create his landscapes he uses building spatulas, which are wider and more rigid than traditional art knives.

He draws his inspiration from his travels and the places where he has lived.

Alain's canvases take the spectator to 'Prussian Blue' seas or invented cities. Alain invites us to travel through his imagined, often silent and calm, landscapes.

Painters such as William Turner, Nicolas de Staël and Paul Klee inspire him. Like these masters, Alain is touched by the colours of Impressionism. His artistic research is a way to communicate emotions through his painting (sadness, joy or melancholy).