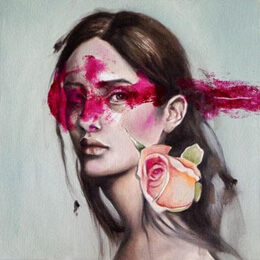 Beatrice is from the Italian provinces of Modena and has been painting and drawing since childhood. After pursuing advanced studies in graphic design she worked for several years as a copywriter for various companies in the region, while still devoting her free time to her artistic endeavours.
It is in 2010 that Beatrice made the decision to disrupt her daily routine and to commit to developing her visual productions full time. She lives in the commune of Casalgrande and now works exclusively on her figurative pieces and on enhancing her technical knowledge by taking private lessons. She is a member of the Organisation Cercle des Artistes de Reggio Emilia and exhibits her pieces during the many regional events.
Even though animals have been invited into her compositions over the past few years, Beatrice's main inquiries are focused on the exploration of various aspects of the physiognomy and the anatomy of the human being. Using a mixed technique that combines oil paint and crayons, applied equally onto a canvas, wood or paper, Beatrice's process consists in lending an emotion or sensitivity, that may come from one of the subjects represented, a figurative representation. Her references are taken from the Renaissance, and she is committed to creating a particular atmosphere - one that often finds its inspiration in spirituality - in order to convey the interiority of the imagined characters with the most loyalty possible. Her characters, represented at the heart of her compositions and sketched out with great care using mostly cold modalities, such as icons, seem to represent all the complexity of the human soul.