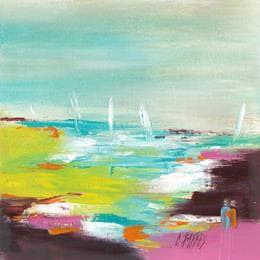 Born in 1960, Christine Barres lives and works in Rodez in the Aveyron region. From an early age, she grew up in a colourful atmosphere and enjoyed the simple pleasures of life in the countryside. Painting was as important as speaking: Christine used the representation of shapes and shades to say everything that she could not express in words. Her essential element being colour, everything else was a pretext. Avoiding at all costs a creative routine and a redundancy of subjects, the artist seeks, before anything else, a resulting authenticity and emotional charge. So she begins with an idea, a feeling, a moment lived and transcribes it directly on the canvas with oil. Sometimes she slips some silhouettes or objects into her paintings, bringing them a figurative dimension. However, Christine says she wants to keep a ""window on the abstraction, to allow the canvas to journey"", because she considers them, much like dreams and human relationships, as engine of creativity.
The artist strokes are bright, structured stripes created with the knife. Christine paints with a sweeping gesture, working the effects of depths and sculpting the material with all the energy and excitement she brings to the act of painting. She physically engages with her painting and her subtlety and generosity, literally penetrates the canvas to reveal a harmony, a delicate balance of colours and masses.
The artist is said to be free of any influences but is still affected by the ""physical commitment"" works by Nicolas de Staël (French painter of Russian origin of the twentieth century) and for the same reasons admires the works of his American contemporaries, Mark Rothko and Jackson Pollock. Christine's painting is faithful to what she is: a flood of light and joy. For her, life is an eternal source of wonder that we often forget to contemplate. Her creations therefore invite us to share her delight and to open the doors to a colourful world.