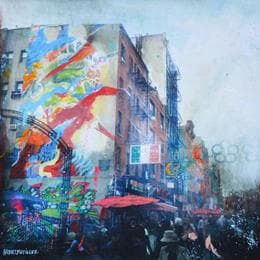 Stéphany Hasselsweiller
France
Stéphany Hasselsweiller is an avid traveller and has gone around the world collecting the snapshots that make up her travel journals. As she moves from one megalopolis to another, she observes without interruption every kind of universe she can find and discovers that all cities look alike. As a result, she decided to capture the spaces saturated by images, artificial lights and the promiscuity that affects comfort and repulsion all at once.
Her reflections on the urban space truly began when she decided to change certain photographsin an attempt to erase ads and bring a bit of silence to the urbanvisual cacophony. With time, her technique became more precise and she began to let in more and more colour. Each one of her works is created from a photograph that she prints and then reworks with acrylic paint and varnishes. The architectures begin to transform, colours appear, light is born like a glimmer of hope. She works to create the ""breach"" that is so dear to the city dweller, the slit through which he or she can catch a glimpse of the sky. Inside this breach the real light can come through like an ultimate attempt to resist to the insulation of the big cities. Stéphany likes taking things all the way and works in series that she develops for around a year. The city, trees, bodies... Each subject enables her to learn new things and influence the new series.
Her works also invite her viewers to dream and to reminisce and she is always happy to hear stories of travels that her viewers never fail to share with her.