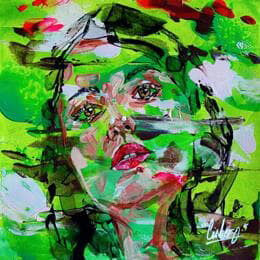 Graduating in applied arts, Nathalie Cubero began her career as a graphic designer and then worked as an independent webmaster. Alongside her commissions, she painted with passion and, little by little, ""threw herself wholeheartedly"" into this activity which corresponded more to her personality without reserve. This also let her respond to her urge to design freely and spontaneously.
Nathalie Cubero is influenced by the world around her and focuses her attention on human beings and more particularly on everything that affects their interiority, their sensitivity. Armed with her acrylicsand varied techniques, the painter works in her studio in Venelles, on the outskirts of Aix-en-Provence and creates numerous portraits with bold colours and bewitching looks. The fact that she chooses a deliberately narrow point of view, and the addition in some cases of a gold leaf background, reinforces the majestic character of her characters. Yet, they remain so close to us and we can easily recognize ourselves in them. The constant explosion of bright tones, on the other hand, symbolizes all the emotions that can pass through each individual during his or her lifetime.
Like her characters, which look serene, but are in turmoil under the surface, Nathalie Cubero paints according to a duality that is clearly expressed on the canvas: she prioritises softness and precision in the way she depicts facial features, and sweeping and instinctive movements in her choice of colour. Thus, by skilfully combining classical techniques with resolutely contemporary aesthetics, the artist has forged a strong artistic identity that resonates with her time.