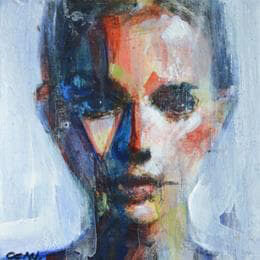 A native of Tunisia, Ozan settled in the Nouvelle-Aquitaine region where he joined the Academy of Fine Arts in Bordeaux in 1994. Upon graduation, four years later, the young artist became a professor drawing and painting, in the same high school. In parallel with his teaching activity, Ozan develops his own artistic practice, nourished in large part by the many advice given by his teachers throughout his training, which are Francis Vignaud, Michel Marue and Daniel Ballon.
The essence of Ozan's pictorial art revolves around two major groups: the work of the material and the representation of the female face. Although he has been able to express himself for a long time through different genres, especially scenes of daily life, it is the portrait that remains at the heart of his practice. Armed with a base composed of acrylic, charcoal and oil, the painter brings up the subject of the background in a playful game of contrasts both chromatic and luminous that gives depth to the subject.
Citing the French painter and sculptor, Henri Matisse (1869-1954) who said that ""the accuracy is not the truth"" (1947), Ozan executes his portraits with enthusiasm and energy, guided by his only brushes whose gestures, sometimes random, is an integral part of his approach. Resolutely expressive, his faces contemplate us with a penetrating intensity that can not leave anyone indifferent.