The California style paintings: THE home decor trend to adopt urgently!
california at the heart of your wall decoration
True symbol of the West Coast, California has a culture appreciated throughout the world. Does this mythical state of the USA fascinate you and make you dream? Our selection of California style paintings allows you to adopt the colors and spirit of California in your home. The paintings that represent California landscapes will bring the sun back into your spaces. Through these paintings, your walls will trace a part of mythical America.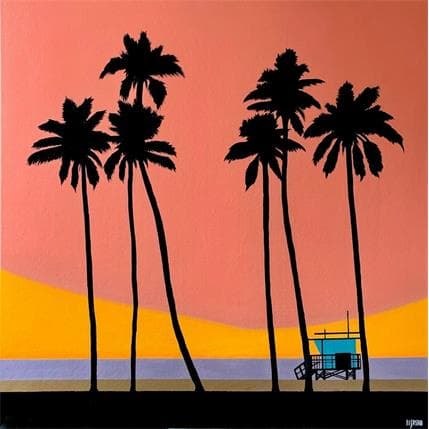 Sunshine and color on your walls
Paintings depicting California set the stage for a sunny, colorful decor. These paintings tell all that makes the popularity of this state. The Californian painting is first of all sunny colors, beaches, surf... and a warm and pleasant climate. California is also Hollywood and its movie stars, or the flagship avenues of the city of angels. Its landscapes give personality to a wall decoration in need of sparkle. For a few years now, the Californian painting has also been highlighting the high-tech world hidden deep in Silicon Valley.

The country's leading cities, the local lifestyle and its iconic landscapes are represented in deep and colorful universes. Our paintings also feature characters made famous in popular culture. Cartoon characters, scenes from everyday life, and everything that makes California unique. Each canvas is a reminder of the diverse identity of California's cities and their people.

Los Angeles highlighted in your decoration
It is impossible to evoke the Californian paintings, without evoking the city. The City of Angels is not only one of the largest cities in the USA. It is also the world capital of the 7th art. Unlike a poster, a painting faithfully conveys the different facets of this extraordinary city. The emblematic aspects of the capital of cinema are represented through strong visuals, worked with depth. Some of the paintings also have a Nordic touch, inspired by the surrounding cities. All the artistic side of the territory can be found in the sought-after compositions of this kind of "California" painting.
Experience San Francisco through our paintings
California is also revealed through our collection of paintings dedicated to the city. This legendary city is famous for its streetcars and its history. Today, the city shines in the technology sector. The golden city is also known for the alternative movements that regularly take place there. Our paintings claim everything that makes up the local atmosphere and way of life. They also showcase their nature, the harmony between the localities and their humanistic values. The collection of California paintings we dedicate to them traces the local artisanal identity. It is there to make you experience the city and to make you want to discover more.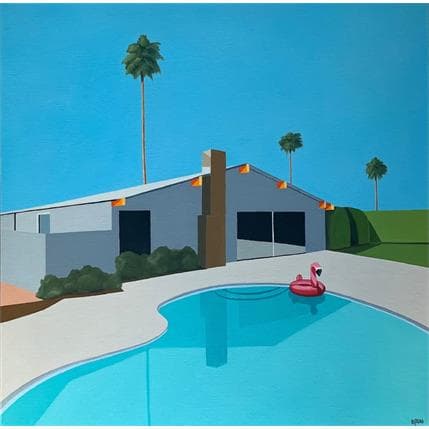 THE PAINTING, THE IDEAL DECORATIVE OBJECT FOR AN AUTHENTIC INTERIOR
The painter's sources of inspiration give authenticity to the works offered in our store. More alive than a poster and deeper than a poster, our paintings are the image of California. They trace the complexity of the territory, while underlining its different dimensions. Each work is directly inspired by everyday scenes, marked by vibrant color choices. Are you tempted to invest in a California-style painting to add color and modernity to your home? This choice of wall decoration brings a touch of originality to your personal compositions.

Paintings that will match any decor

Their vintage and contemporary looks give our paintings a strong personality. Our painters highlight strong colors, which will support the aesthetics of your living room. The paintings in this collection play with light and contrast. Behind simple lines, they reflect an expertise of the brush strokes. Our paintings highlight a sophistication that adapts to all associations. Does your decoration need an intimate note? The compositions of our artists will find their place in different decors. The purchases that you will make on our site or in our gallery are given to you with a certificate of authenticity. Le Carré d'Artistes also provides assistance to help you enhance your Californian painting, whatever the space where it will be displayed.

Originality on your walls at the right price

Our collection of California-style paintings is accessible to all wallets. Our works will dress up your walls with more presence than a simple poster. As faithful as a poster print can be, it will never faithfully reproduce the spirit of an original work. The canvas conveys all the passion and dedication that the painter has for California. Are you looking for unique works that you can proudly display on your walls? We avoid the standardization that has become common in interior design.

Forget those unattractive printed reproductions that decorate without soul. A unique painting is an investment that you could be proud to showcase in any room. It will be an outstanding decorative asset for a space you are looking to personalize. With simplicity, our California inspired paintings will bring life to your wall decor. They offer you more than one alternative to give sparkle to dull walls and outdated furniture. With them, you can redefine the aesthetics of your home. Our masterpieces will provide you with the touch of sparkle your decor needs to reflect your love of California.

A collection of California-style paintings available at Carré D'Artistes

Discover in our online catalog and gallery a beautiful selection of California-style paintings. We highlight the creations of emerging artists, valuing the identity of the Californian territory. Thanks to the Carré D'Artistes, these works of art are democratized to furnish your interior decoration. We offer the opportunity to contemporary art lovers to find exceptional paintings in their budget. These unique paintings are offered at interesting prices, defined according to their formats. Le Carré d'Artistes thus ensures that everyone will find a painting that will meet their expectations.


You like it? You will love this :