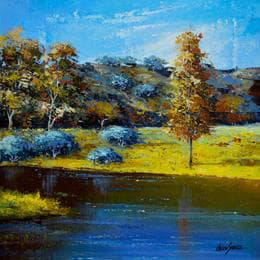 Chico Souza does not burden himself with a particular style or reference when painting. This trained artist approaches art, his themes and his influences in a transverse manner and defines himself as an explorer, a discoverer who multiplies subjects, palettes and techniques.
Whether abstract, figurative, formalist, expressionist or impressionist, the acrylics on the artist's canvases mix up movements, forms and styles in order to challenge any prior allusions and thereby confuse any established system of categorisation.
Defining himself as a "pallet knife impressionist", Chico Souza willingly mixes the academic paintbrush technique with this resolutely modern pallet knife and in doing so multiplies the treatments and material effects and explores different approaches to the same subject.
Nature and Earth, their colours and their textures are subjects that the artist can study infinitely. He has always maintained a particular relationship to his country of birth (where the artist drew his first sketches with his little fingers) and places major importance on the influence of natural landscapes, the symbolism of origins, of roots, of the nourishing value of the Earth.
Whether these landscapes are dealt with in a realist manner or, alternatively, as an explosion of colours and light through abstract representation, for Chico Souza it is always about displaying the emotions that nature inspires in man by means of a perfect mastery of harmonious colours, tones, nuances and shading, like a remarkable mirror of the free privileges that nature offers our gaze.