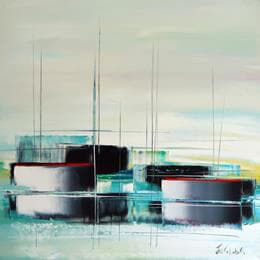 Eric grew up in Alsace, where he studied at the Strasbourg School of Fine Art. He began with portrait painting and moved towards impressionism, finally devoting himself entirely to abstraction in 1999.
The artist developed his technique of painting in oils and acrylics on canvas. Depending on his mood, his mastered style allows him to vary between colourful and tonic theatrics, to soft and pure streamlined compositions. His strokes are sure and, whatever his mood, his style is easily identifiable. His sensitivity permeates each of his paintings and his lively and generous compositions cannot leave the viewer unmoved.
The artist's approach stems from a personal motivation to shape cheerful colours, associating them with a very special construction representing, for example, the seascape as a whole. The viewer imagines a city, a port, or boats. The artist takes great pleasure in offering us an imaginary vision of the seascape. At the same time he develops what could be called gestural painting. Flights of uncontrolled colour emerge from his unconscious, and the end result is a very personal work, almost a self-portrait.
Eric leads us into his world with warm and cool tones, with his varied palette, but also by the act of painting. He allows us to see a world somewhere between the horizontal and vertical, 'from heaven to earth'. He tells stories without imposing any images. An artist of gestures and movement, he highlights and colours that which passes through our eyes and leaves us a greater freedom of interpretation.
Eric enjoys sharing what he sees, what he feels and what he imagines, and his sensitivity permeates each of his compositions.
The artist lives in Alsace and exhibits in many galleries in France and abroad. His reputation has been growing for several years now.