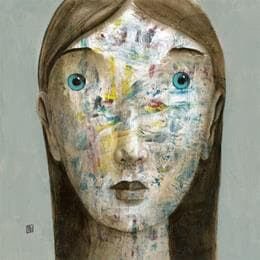 Both a specialised decorator – trained at the Opéra de Bordeaux – and painter-artist, Fabien would first become initiated with audio-visual techniques, and in particular, photography techniques, before turning towards a rich and varied course in fine arts.
Trained to master all pictorial skills – which range from classical painting to ttrompe-l'œil – his personal art turns out to be original contemporary figurative painting, marked by fantasy. However, working from mixed techniques affixed on canvas, he prefers oil painting, which he likes to resort to in order to perfect the finish of all of his works.
Fabien likes painting closed, almost expressionless faces, whose more or less discernible physical human characteristics are reminiscent of inspired forms of African masks or other features taken from theatrical or military history. Always represented full-face, these characters of an unknown age but with a sexual physiognomy seem to have come straight from a legendary tale, whose story could be revealed by deciphering the "scars" of colours and materials, and whose faces are partially or even entirely covered. The oil used by the artist as a final medium to complete the work accentuates this almost sacred, precious feeling, which seems to emerge from the represented subject.
Fragments of individuals steeped in poetry that is both timeless and fantastic, Fabien's works plunge us into a "mirrored" contemplation, in which we may ask ourselves, both of them, who is staring at the other?