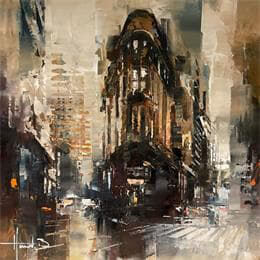 Benoit Havard's paintings are spontaneous works based on a study of light and contrasts more than on the minutiae of details. His oil and spatula paintings first photograph realistic cityscapes in order to then glean from them all of their emotional power. New York, London or Paris appear in their purest shape and are saturated with colour. ""The idea is to bring the subject into my own universe"", the artist explains.
Benoit Havard is almost cinematic in his approach to colours and movements and begins by working on the background before adding more precise details, landscapes, characters and scenes of life. The most important endeavour is to create an atmosphere, more than to establish a specific place. The tingling feeling is brought about by the energy of the colours, which gives the artist great freedom. The large urban avenues offer depth and perspective to the paintings and also confirm the classical character of the compositions.
The artist chooses popular places such as the Garnier Opera, which are symbols and familiar references that Benoit Havard strives to free from their commonality. The regattas, the boats, the horse riders all make it possible to study movement. The harmony, from warm colours to blue greys, slowly pushes his creations towards abstraction. The scenes that look like they were taken directly from a film or a cartoon are then freed from their subject matter and can enter into fiction. The imagination then sets in as the horizon of the painting and diffuses light every which way.