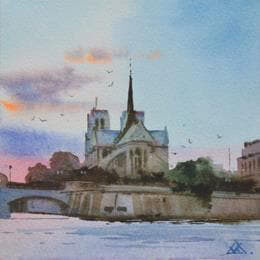 Vasyl Khodakivskyi
Ukraine
Vasyl works with acrylic, watercoloursand oil paint in a style that is mainly figurative, looking to produce, above all else, something that can speak to everyone.
Also, using a personal aesthetic approach, the painter strives to represent moments in life, bodies and landscapes, with simplicity and finesse that, after carefully being translated into colours, can reflect the enthusiasm and sensitivity of their author.
Vasyl was also a street artist on the Greek Island of Santorini for several years. He made portraitsand has boundless admiration for the female body, which he never tires of capturing. He also loves to depict seascapes and the many elements he finds in them.