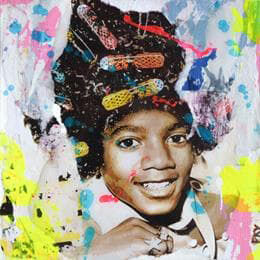 Landscaper by trade, POOKKY worked in the Paris region for a long time before moving to Brittany, where he now lives and works. Forced to abandon his career due to health reasons, the young man felt the need to express himself through art and, as early as 2010, threw himself headlong into visual creation. Little by little, he gained enough experience, encouragement and assurance to start a second life dedicated to his passion.
Self-taught in his artistic practice, the young artist makes many compositions made from paint, collage, stencil, resin, digital printing and various objects recovered here and there. Torn off, crumpled then totally or partially covered, the printed medium is ""maltreated"" according to the mood of the artist. Thus, through the use of these many mixed techniques that he combines with a multicolored palette, POKKY reinterprets, with a distinct humour, a touch of irreverence, and a beautiful generosity, the portraits of the icons of the world of entertainment, also developing into highlighting some of the political and social debates that ""split"" our contemporary society. His style as well as his practice is original, as the artist works exclusively in his living room or in his kitchen.
Powerfully coloured and imprinted with a demanding dynamism, the aesthetic that is drawn as much from Pop Art as from street art, POOKKY's works seem to reflect, more than the subject itself, the personality of the artist, positive and sincere.